Family Album
Memorial Day Sunday, May 28, 2023
Guest speakers (from left) Rev. Matt Ledbetter, Director of Missions for the Duck River Baptist Association, and Scotland Stewart, national VFW essay winner. Also shown: Pastor L Z Johnson and Bobby Clark, VFW post commander.

Scotland Stewart presented his award-winning essay, "Why Is the Veteran Important?, May 28, 2023
Welcome new member Jane Hawkins, May 21, 2023
Congratulations graduate Ethan Bradford, May 21, 2023
Faithful Encouragers Chattanooga Lookouts game, May 17, 2023
Horace Mayes Day, April 23, 2023
Horace Mayes was honored with an appreciation day for his long service to Cowan FBC. The special day also was Horace's birthday. He's shown with Pastor L Z Johnson and Pam Peck, who shares Horace's birthday. Meanwhile, worship leader Kyle Hatchett read the appreciation day proclamation and led a chorus of "Happy Birthday" for Pam and Horace.
Faithful Encouragers Amish Country trip, April 18, 2023
Pancake master Logan Lankford manning the griddle at CFBC's annual pancake breakfast and egg hunt, April 8, 2023

Stations of the Cross live diorama, Good Friday, April 7, 2023
Welcome new members Jim (L) and Scott Russell.
Mission commissioning for Charlene Cunningham, March 5, 2023
The church sent Charlene off to Taiwan with hugs and prayers. She's shown with (L-R) Sylvia Coulson, director of Women's Ministries; LZ Johnson, senior pastor; and Noah Henley, a recent mission intern to Australia.
Welcome new members Erik and Crystal Bohannan.
Achieving Young, February 19, 2023
Pastor LZ Johnson recognized Zach Cole (left photo) as youth football Most Valuable Player and Davis Merritt for "Feed My Children," a food drive he organized for his Eagle Scout project. Zach is the son of Erik and Scarlett Cole. Davis' parents are Neal and Bethany Merritt.
Happy to have new member Tom Rhodes (center). He's shown with Heidi MacClean and Pastor LZ Johnson.
Celebrating Love and Spaghetti, February 18, 2023
The fourth annual youth-sponsored Celebration of Love dinner was a big success.
Faithful Encouragers lunch & a movie, February 14, 2023
Faithful Encouragers breakfast, January 17, 2023
Dedication Day, January 15, 2023
Jorg and Denise Schunn (left center) brought their sons Jacob and Lucas Michael, while Erik and Scarlett Cole brought daughter Zeta Mae to be dedicated to the Lord on Sanctity of Life Sunday. Flanking them are (left) Youth Pastor Eric Bradford and Pastor LZ Johnson.
Good Preaching X 2, January 8, 2023
Mark Miller (L), Discipleship Director for the Tennessee Baptist Mission Board, delivered a powerful message on faith at the January 8 morning service.
Meanwhile, Noah Henley spoke about breaking the bonds of anxiety at the evening service. For a replay of Noah's sermon, click "Videos" on the home page.
Christmas for the Community, December 16, 2022
Volunteers met to assemble the annual Christmas food boxes for people in need.
Christmas Shoe Boxes, November 13, 2022
Judd and Susan Clements and Pastor LZ Johnson joined the congregation in celebrating the collection of 286 Operation Christmas Child gift boxes.
Prayer Walk, October 29, 2022
Making the circuit of Cowan, praying all the way.
Christmas Cheer, October 24, 2022
Women of Mission packing Christmas shoe boxes.
Baaaaaad Day, October 23, 2022
Logan Lankford
(green shirt) and Gage Baker wrestled with a not-too-friendly goat that tried to butt into the morning service. The goat finally was persuaded to stay outside until its owner could be found.
Faithful Encouragers Cheekwood Gardens trip, October 18, 2020

Raffle quilt, Autumn 2022
Church youth raffled off a handmade quilt at the Cowan Heritage Festival.
Tailgatin', October 15, 2022
Good eating and a lot of orange jerseys (some crimson, too) at the church tailgate party before the Tennessee-Alabama game.
Mark Puckett Day, September 18, 2022
Senior deacon Steve Young (L-R), special speaker Mark Puckett and Pastor LZ Johnson pause for a photo op during a service honoring Rev. Puckett for his service as Director of Missions for the Duck River Baptist Association.

Faithful Encouragers Southern Belle riverboat cruise, September 15, 2022
Faithful Encouragers Birthday Bash, August 9, 2022
Faithful Encouragers Graceland trip, July 2022
Gideon Sunday, June 26, 2022

The church
's own Bradley Sherman led the annual Gideon service at Cowan FBC.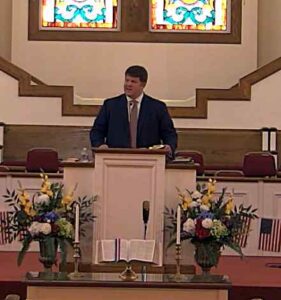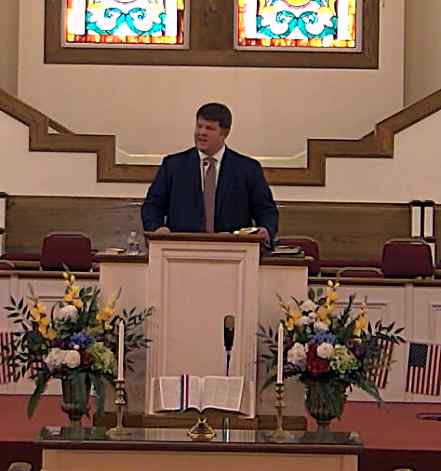 Emma Holt was honored as Cowan FBC's senior mother during the May 8 morning service.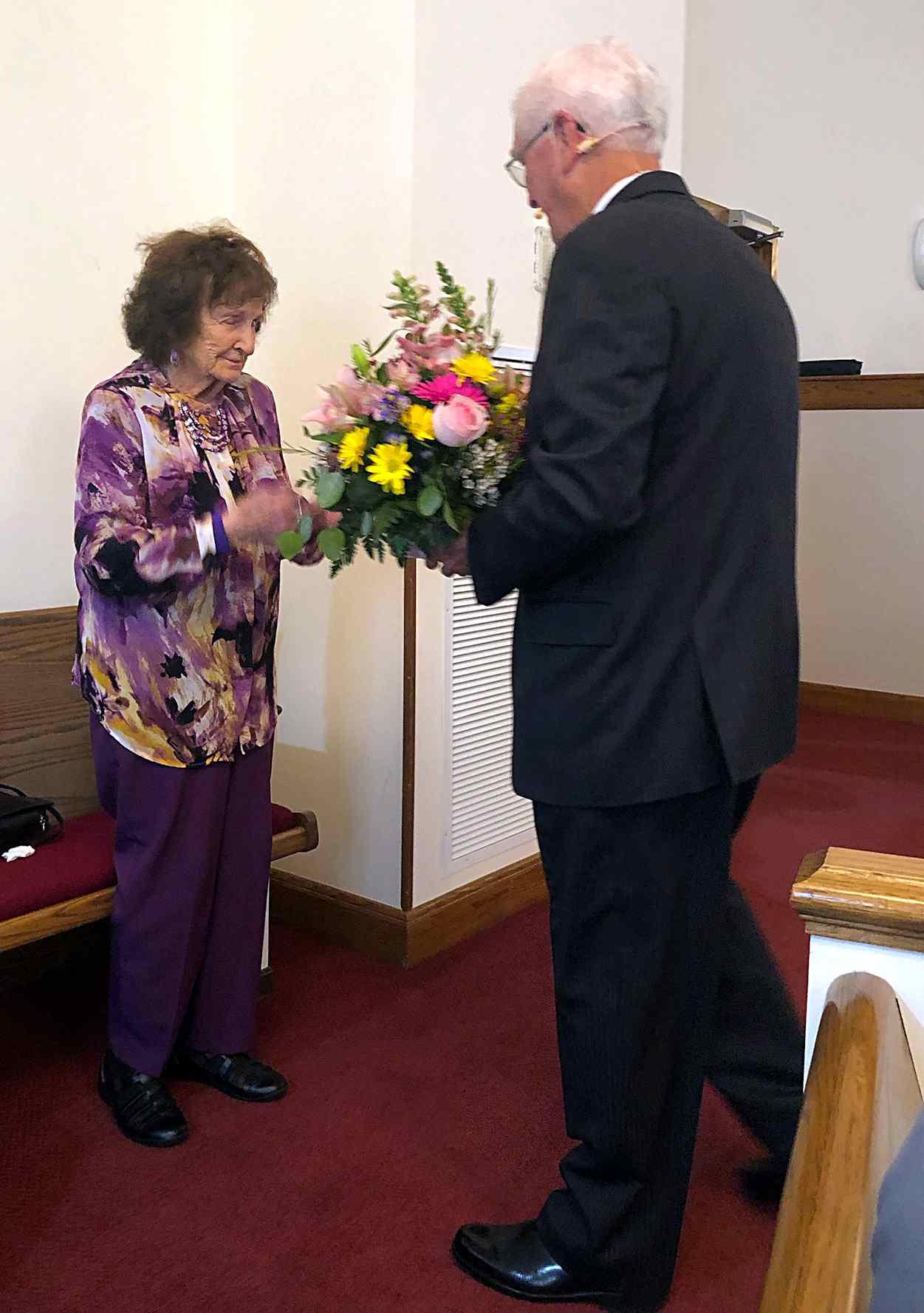 Mission commission, May 2022
Noah Henley (second from left) was commissioned as a mission intern to Australia.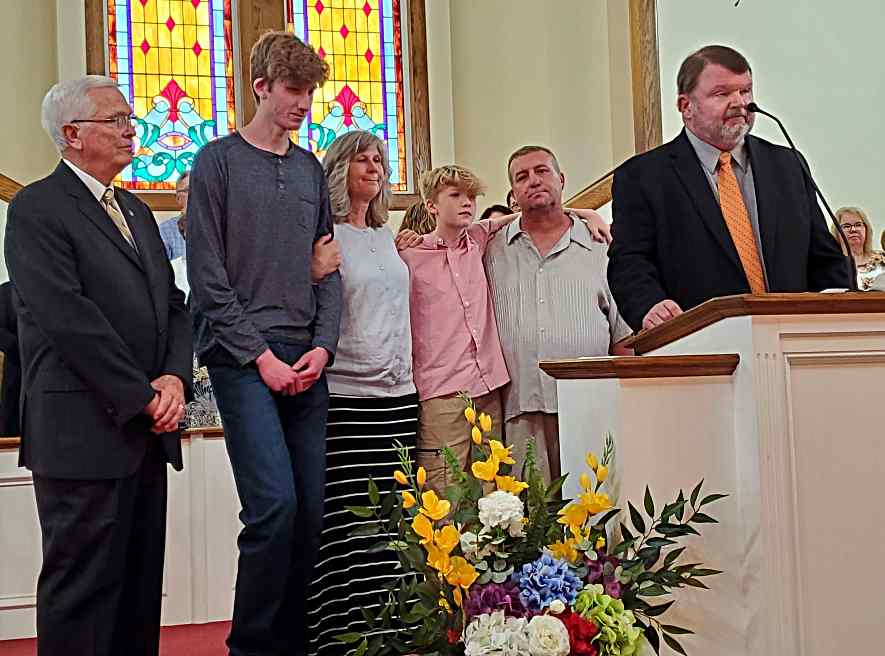 Emma Clark (center, with Pastor LZ Johnson) was one of six high school graduates recognized by Cowan FBC. She received the Matthew Kyle Johnson Memorial Scholarship from the church. Other family members include (from left) sister Haley and grandparents Jan and Bobby Clark.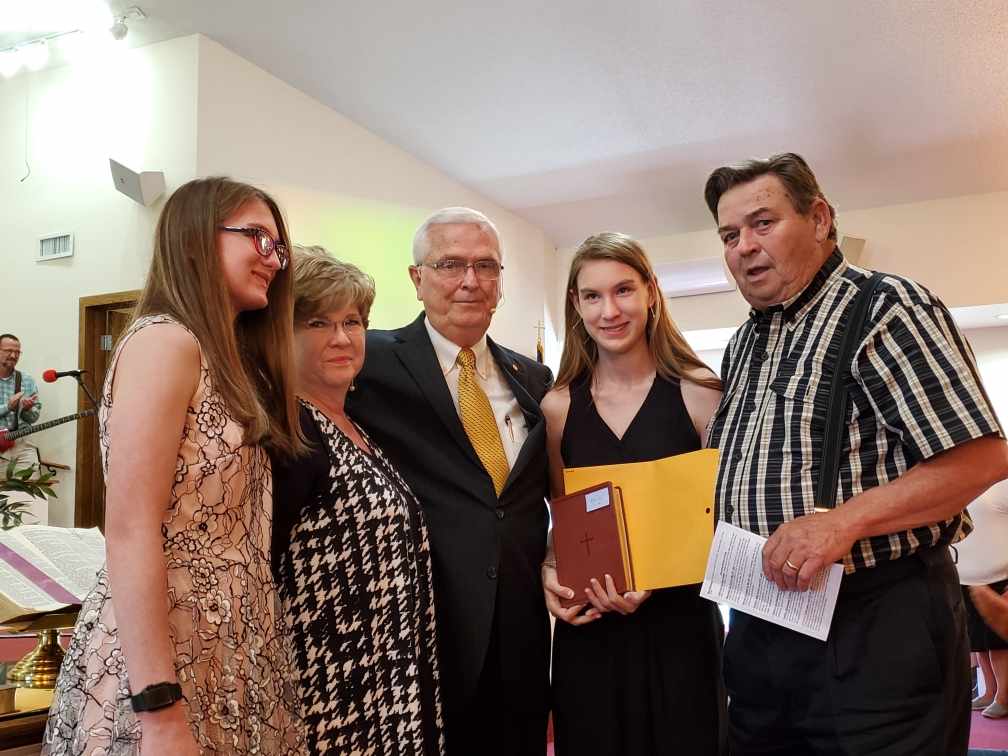 Other high school graduates: (L-R) Gage Baker, Lindsi Lankford, Amelia Myers and Biftu Regaa. Not pictured is Reagan Sherrill.
Sunrise Service, April 17, 2022
Worship leader Kyle Hatchett (L) and Pastor LZ Johnson helped lead worship at the annual community sunrise service at Cowan-Montgomery Cemetery.
Kitchen duty, April 16, 2022

The Cowan FBC kitchen was a busy place in the hour leading up to the annual pancake breakfast and egg hunt.
Faithfuls lunch and learn, April 12, 2022
Faithful Ecouragers got together to eat and learn how not to be outsmarted by their smart phones.
Resurrection cantata, April 10, 2022
Recognition days, spring 2022

Cowan FBC celebrated Charles Hix Day (L) and Johnny Bradford Day to honor their years of faithful service.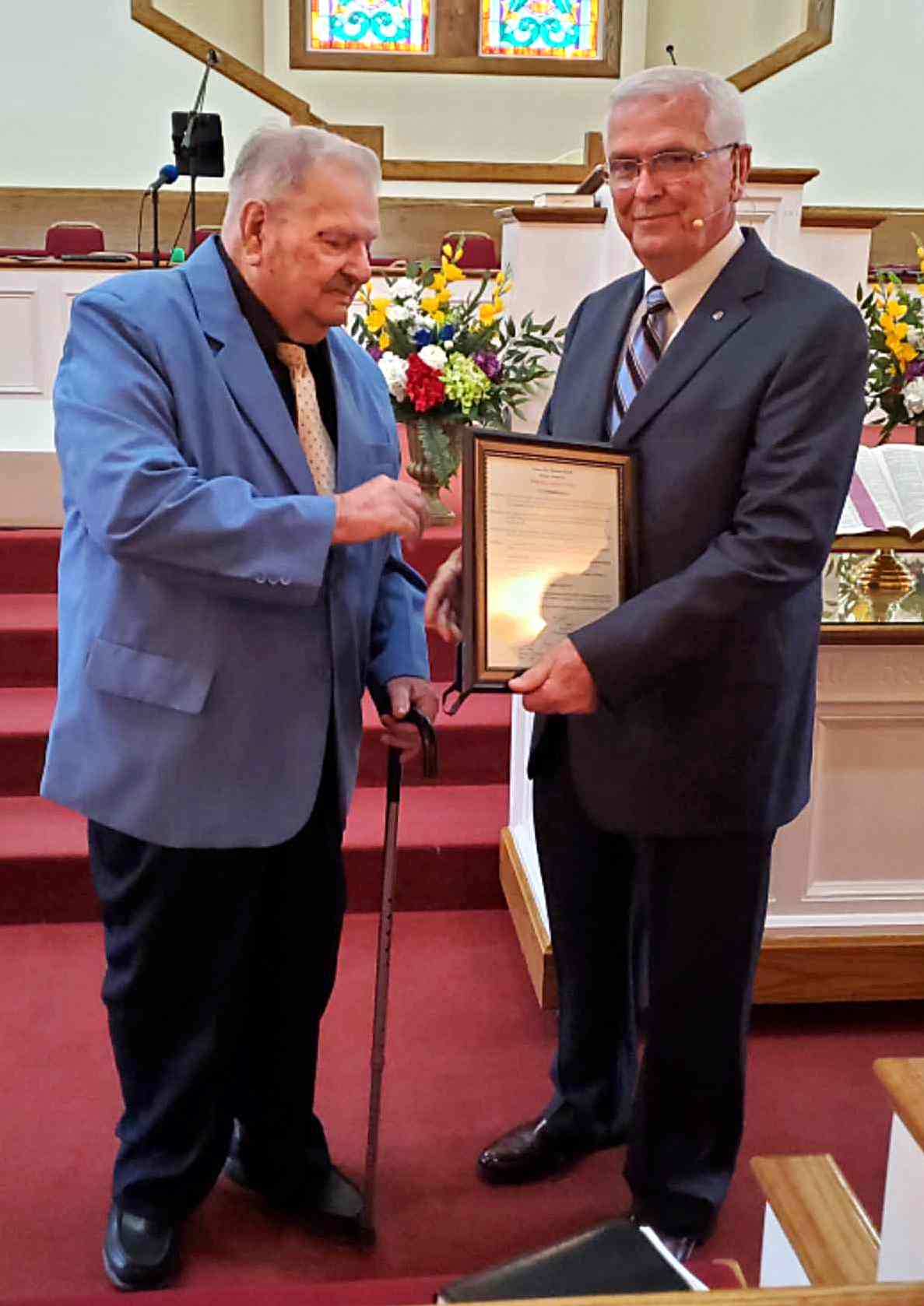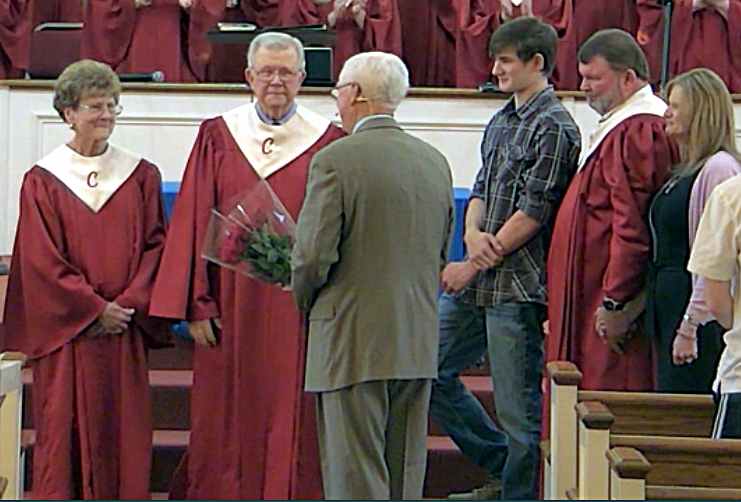 Or at least to Huntsville for the Faithful Encouragers' March 2022 excursion to the U.S. Space and Rocket Center.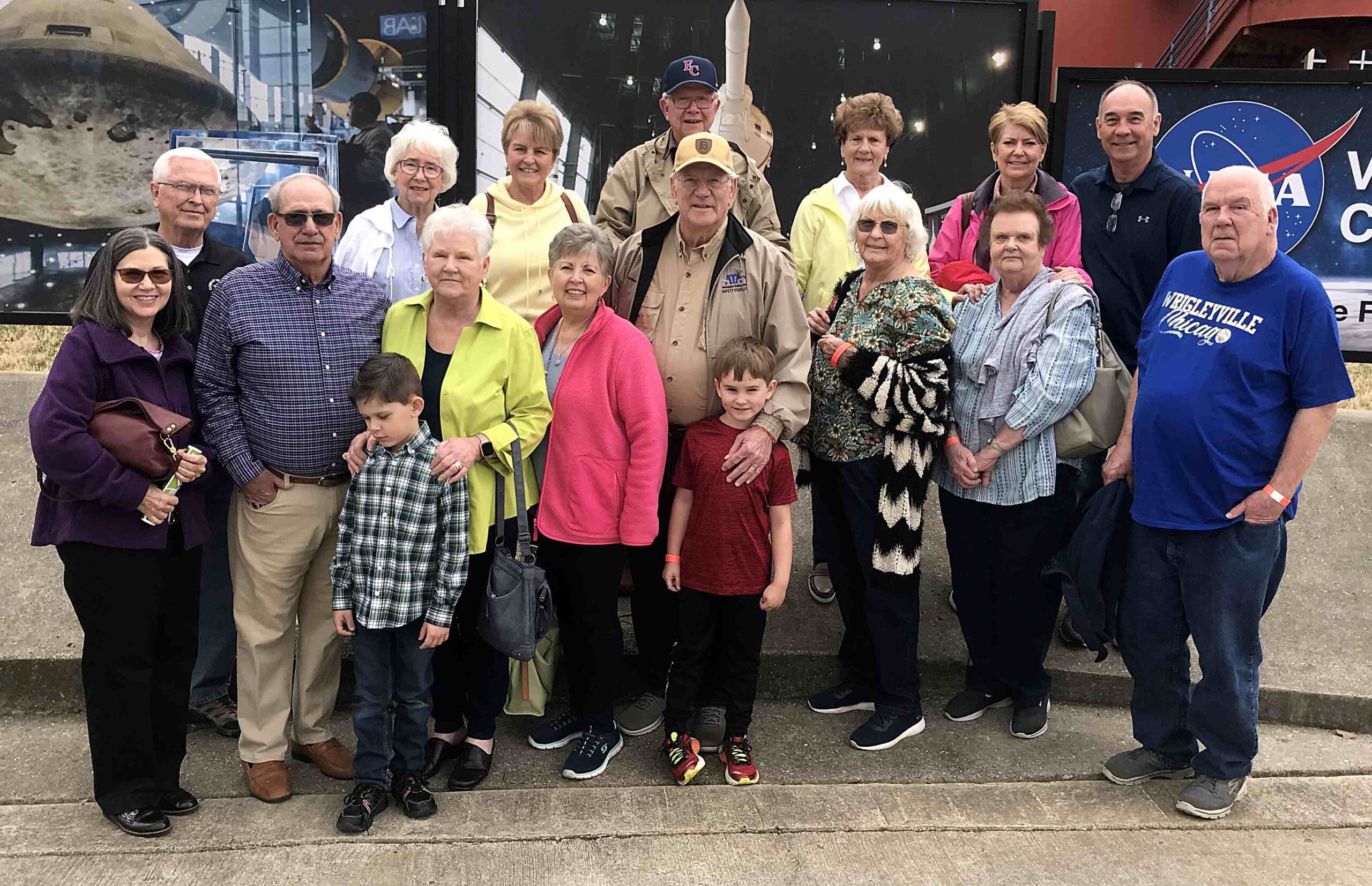 Celebration of Love, February 13, 2022
A good crowd came out on a cold night to enjoy the annual youth-sponsored Valentine's dinner.
Faithfuls at the Farm, February 5, 2022
Faithful Encouragers enjoyed lounging by the fireplace and blocking the staircase during their February outing to Milky Way Farm and Manor House.
Welcome 2022. Let's Eat!
Faithful Encouragers ate their way into the new year with their traditional January breakfast gathering.
Women on Mission Christmas 2021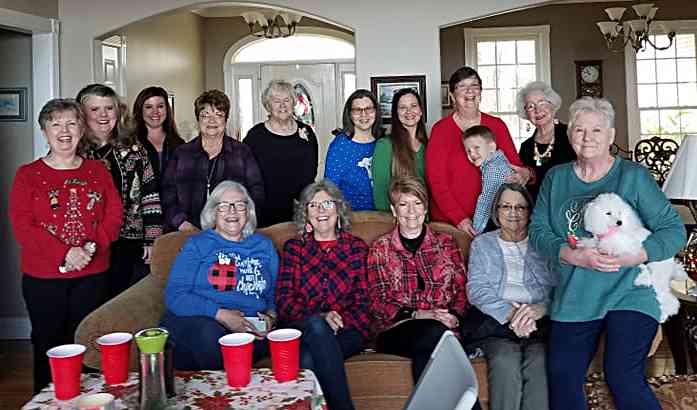 Child dedication, December 19, 2021
A special day for the Ruhl family (L) and the Timbs twins.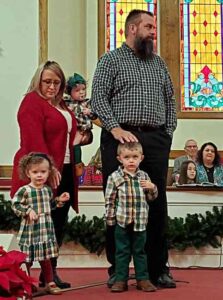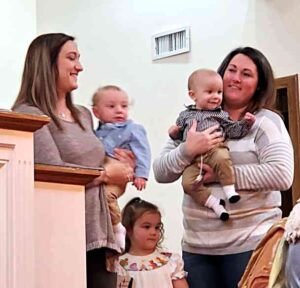 Box building, December 17, 2021
Church volunteers put together benevolence boxes to distribute to the community.
Christmas at the Opry, December 15, 2021
The pews weren't padded, but Faithful Encouragers still enjoyed the Amy Grant/Vince Gill Christmas concert at Ryman Auditorium in Nashville.
South Middle School FCA, November 2021
Pastor LZ Johnson had an enjoyable photo opportunity after speaking at South Middle School Fellowship of Christian Athletes. He's flanked by (L-R) Jada Hand, Zoe Cole, Jasper Henley and Jena Hand.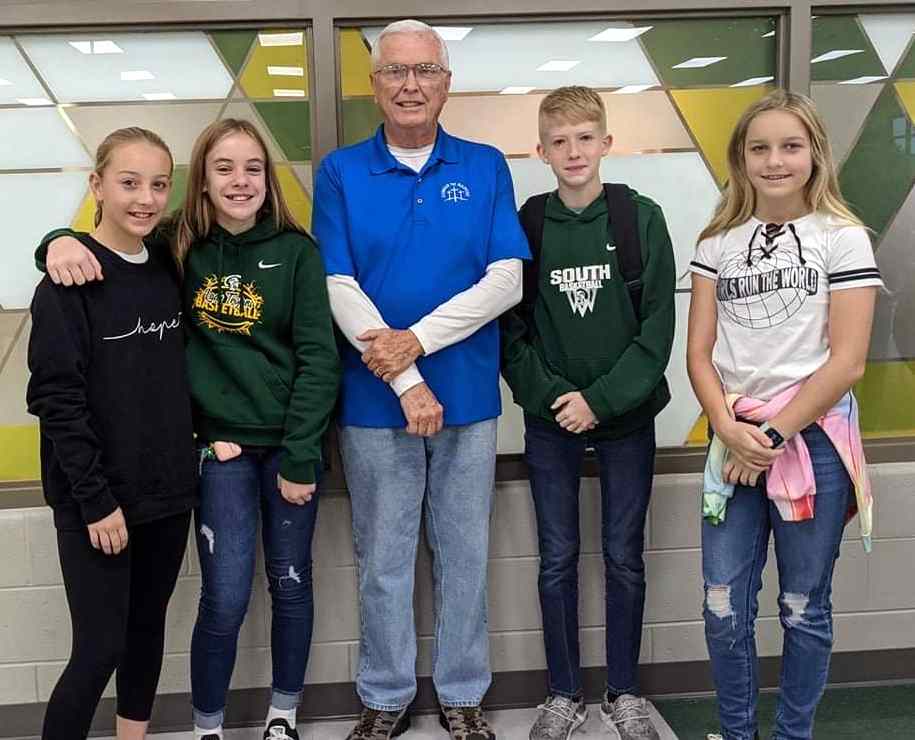 Trunk or Treat, October 27, 2021
Costumes, candy and even a petting zoo in the church parking lot.
Ramping Up, October 23, 2021
Men's Ministry members got together to build an access ramp at the home of Horace and Martha Mayes.
Celebrators Conference, October 2021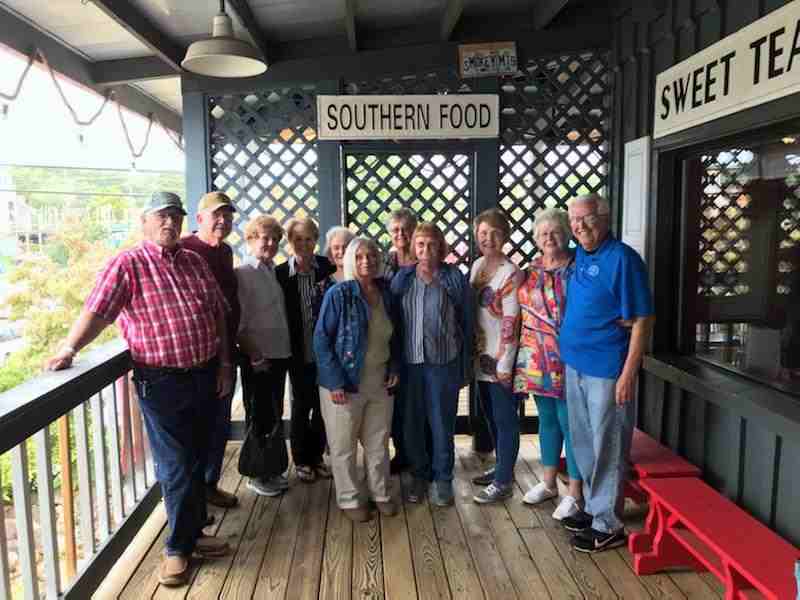 Prayer Walking, August 7, 2021
A semi-early (for a Saturday) starting time and impending thunderstorm didn't stop the CFBC prayer walk for area schools. Walkers met at the church and fanned out to pray for Cowan Elementary, North and South Middle Schools and Franklin County High School.
Faithful Encouragers Lost Sea trip, July 20, 2021
Birthday-ing With the Faithfuls, June 22, 2021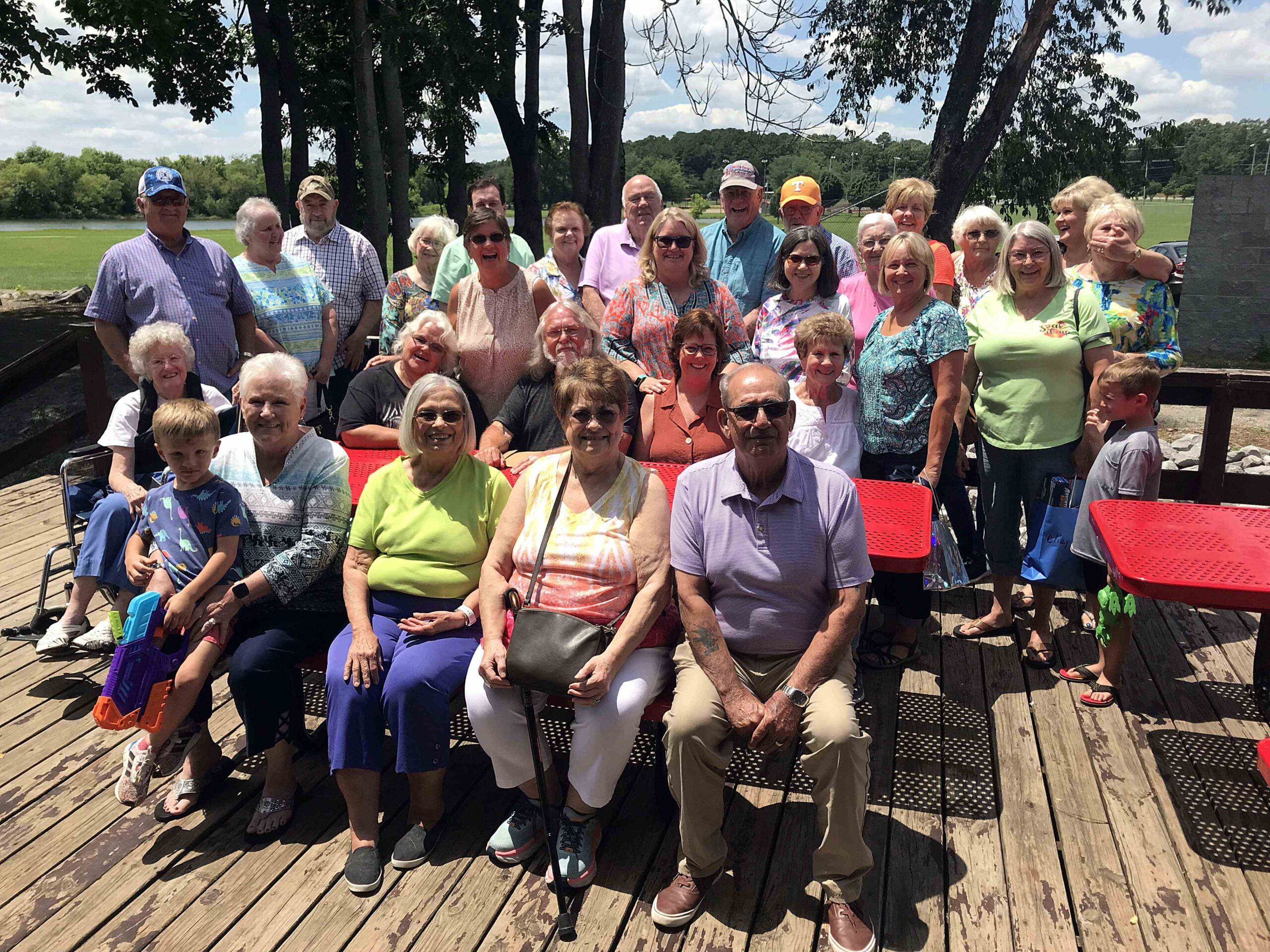 Caps, gowns and smiles: Graduation Recognition Sunday, May 16, 2021
Not available for photos: Diana Hatchett, Brooke Robbins
A miniature world, May 11, 2021
Faithful Encouragers toured the world in miniature during a visit to Ave Maria Grotto in Cullman, AL.
Tea . . . and hats, May 8, 2021
A group of women from Cowan FBC donned their best hats and celebrated a Mother's Day tea with friends at Pelham Church of the Nazarene.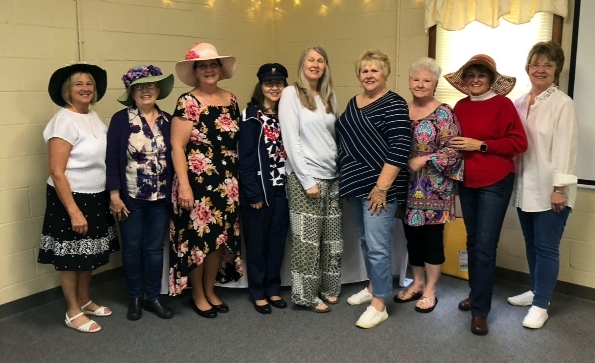 Men's Ministry work day, May 1, 2021
Volunteers got together to buff up the church for Homecoming.
Butterflies, April 13-14, 2021
Faithful Encouragers had the chance to become butterflies—a rare species that eats at Cracker Barrel—during a spring trip to Callaway Gardens.
Resurrection Sunday, April 4, 2021
The largest congregation of the year attended Resurrection Sunday to see Rise Again. Mia Wilkerson (choir) and Jan Campbell (drama) directed the 2021 cantata.
Pancake breakfast and egg hunt, April 3, 2021
Good eating on the day before Resurrection Sunday.
Celebration of Love, February 13, 2021
A good crowd came out on a cold night to take part in the annual Valentine dinner sponsored by church youth.
Fix'n to Eat, January 19, 2021
Faithful Encouragers began the new year with breakfast at Fix'ns restaurant in Fayetteville.
Cold Day, Warm Group, December 1, 2020
Faithful Encouragers needed a sunny spot for their group photo at Miss Mary Bobo's in Lynchburg. The group had Christmas weather for their Christmas luncheon—cold with a dusting of snow.
Eggstravaganza, November 2020
Pastor LZ, perhaps the only Southern Baptist minister in the universe who doesn't like chicken, managed to choke down a few bites of his least favorite food during Eggstravaganza. The pastor was making good on a promise to the New Vision Sunday School class: If they would refurbish their threadbare classroom, he would eat a small amount of fried fowl. They did, he did.
A lot of boxes, November 2020
Pastor LZ Johnson (left) joined Susan and Judd Clements in admiring the 158 Operation Christmas Child boxes donated by CFBC members. The Clements, retired missionaries to Tanzania, spearhead the Christmas box drive every year. The church exceeded its ambitious goal of 150 boxes.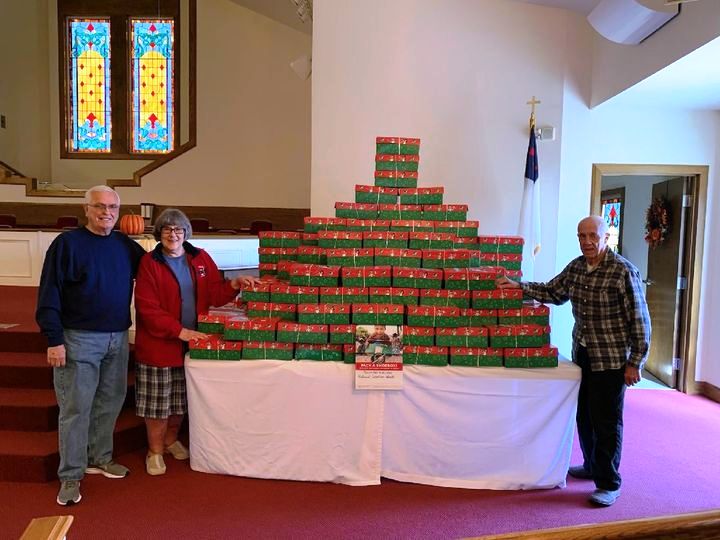 Off to Carnton, November 2020
Members of the women's book club (joined by Pastor LZ Johnson for the photo) visited Carnton and Carter House, historic sites from the 1864 Battle of Franklin. Their October 2020 reading selection, With This Pledge, was set during the battle.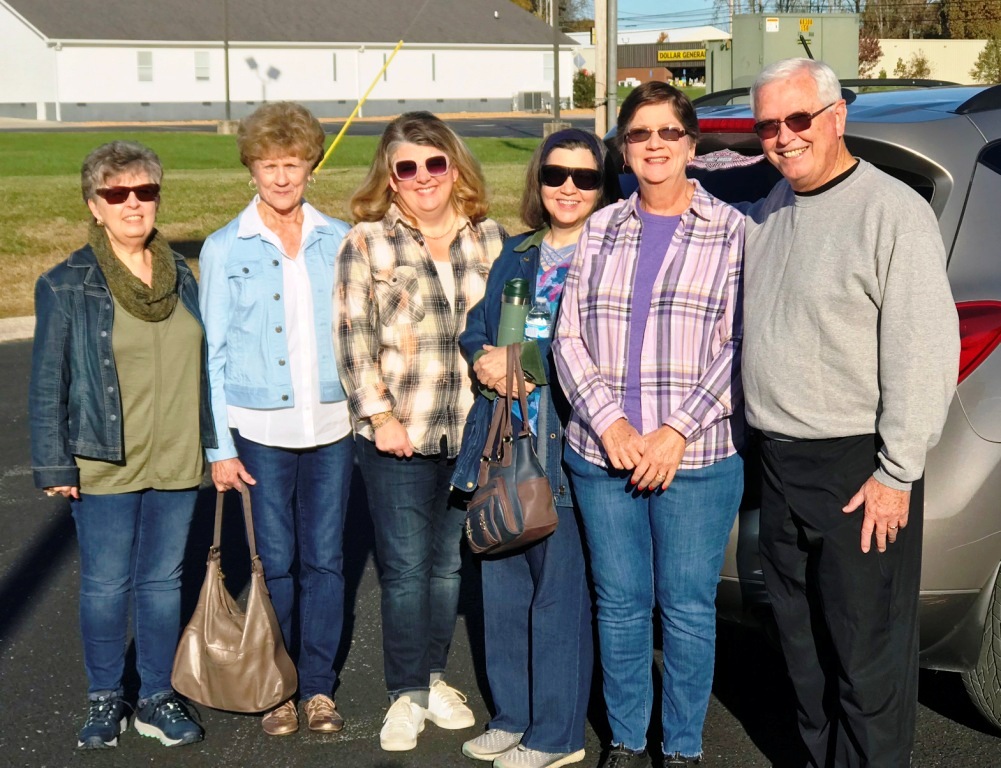 Faithful Celebrators
The Faithful Encouragers had a great time at the Celebrators Conference in Pigeon Forge, October 2020.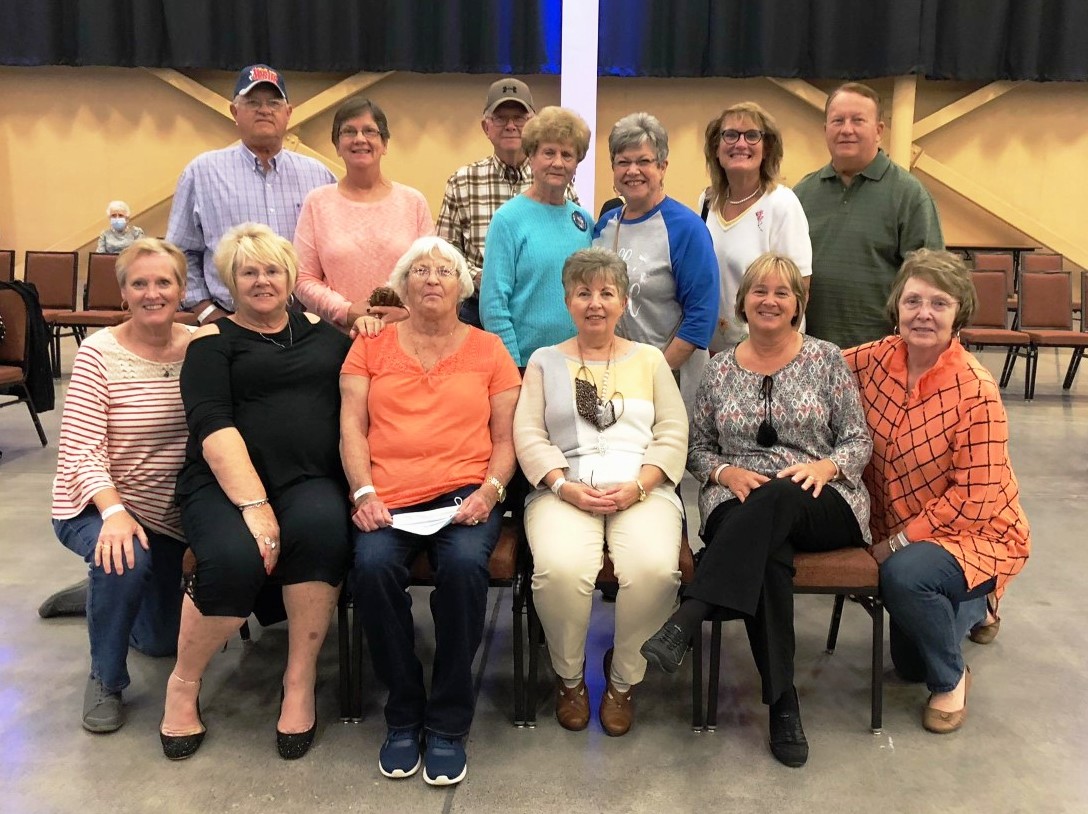 Faithful Encouragers Mystery Trip, September 17, 2020
Ann Glover retirement reception, August 30, 2020
Wishing the best to one of Cowan FBC's favorite people.
Who are those masked people?
Faithful Encouragers dutifully put on their eyeglass-fogging masks for an August 2020 outing to Old Greenbrier Restaurant.
Chapel remodel, July 2020
Fresh paint and hard work made a big difference in the appearance of the chapel.
Ark Encounter and Creation Museum, July 2020
Good Day at the Cookie Jar Café
Johnny Bradford had to sprint to make it into the group shot, but overall the Faithful Encouragers had a great time during their July 2020 outing to Cookie Jar Café.
Big Day in Bell Buckle
Faithful Encouragers had their usual good time during a June 2020 outing to Bell Buckle Café.
Moving Up
Cowan FBC recognized its young scholars advancing from elementary to middle school June 7, 2020. Shown with co-youth director Erik Cole and Pastor LZ Johnson are (from left): Jasper Henley, Andrew Merrett and Nathan Merrett.
Doors and Drawers
Women on Mission renovate the church kitchen, May-July 2020.
Men's Ministry work day, May 16, 2020
A busy morning of sawing, raking, mowing and trimming at the home of Carter and Judy Smith.
CFBC's graduates were honored during the morning service May 17, 2020. They're shown receiving their scholarships from Pastor LZ Johnson and Youth Pastor Eric Bradford.
Thanks, moms
Mildred Hatchett was recognized as Cowan FBC's most seasoned mother on Mother's Day 2020. The service recognized all moms with a gift.
Church in the year of COVID-19
E-church temporarily replaced in-person services in the spring of 2020 as Cowan FBC switched to online worship.
Franklin County Sheriff Tim Fuller (R) visited Cowan FBC in March 2020 to present tips on how to keep kids safe from child predators. The event, which outgrew the chapel and was moved into the main sanctuary, was sponsored by the Single Parent Family Ministry. Sheriff Fuller is shown with Pastor LZ Johnson.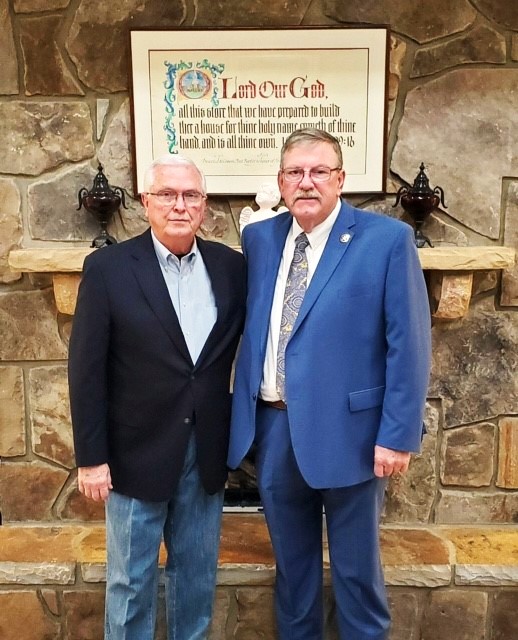 Gideon Sunday, with speaker Terry Nunley
2020 Winter Youth Retreat in Pigeon Forge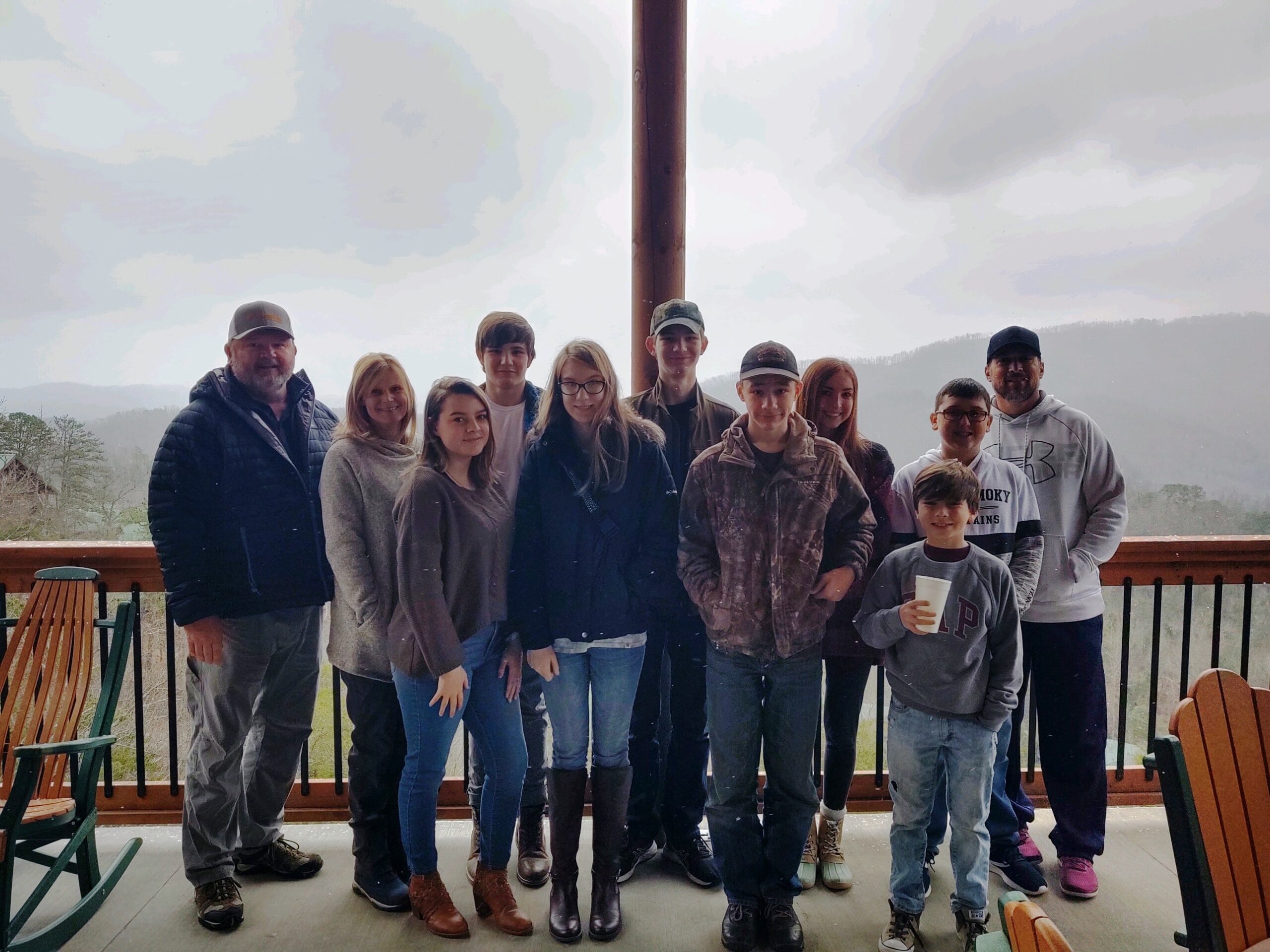 Good eating and good times at the annual youth-sponsored dinner.
Isaiah Brings Down the Steeple
Winter storm Isaiah rolled through Cowan the afternoon of Jan. 11, 2020, bringing rain, high winds and just enough of a push to topple the church steeple. The steeple was a loss, but happily there were no injuries and damage to the main structure was not extensive. (First photo courtesy Franklin County EMA and Rescue.)
Almost six months later: Thank the Lord, the new steeple arrived and went up without incident, June 4, 2020.
Faithful Encouragers breakfast in Estill Springs, January 2020
Assembling Christmas boxes for the community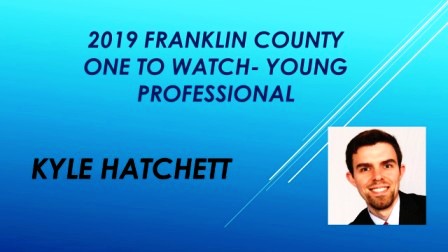 Worship leader Kyle Hatchett was named the 2019 Young Professional of the Year by the Franklin County Chamber of Commerce.